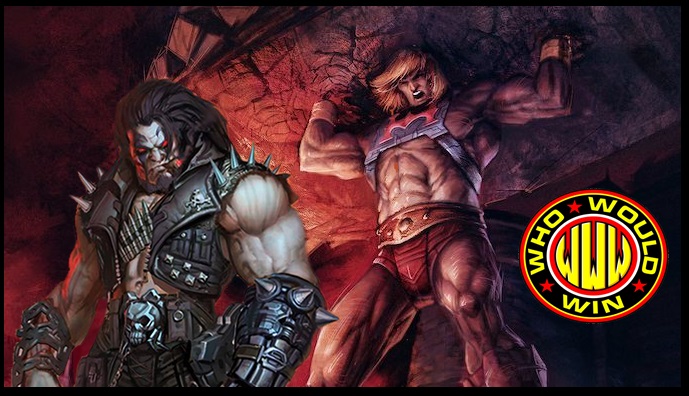 And in the next episode of #WhoWouldWin….It's Lobo VS He-Man! Will the Main Man get the win or will the 80s Icon and original Master of the Universe pull out the victory?
And who will special judge Philip Wilburn, the voice of DragonBall Z's Android 19 choose as the winner?
Powered by RedCircle
Check out our AMAZING sponsor Back Blaze,offering online Backup for $6/month. B2 Cloud Storage for $0.005/GB/mo. Learn more & try it at: 

http://www.

backblaze.com/whowouldwin

 
Follow #WhoWouldWin on Facebook at https://www.facebook.com/groups/2379734168922629/?ref=bookmarks
Follow #WhoWoudWin on Twitter and Instagram: @WhoWouldWinShow
Follow James Gavsie on Twitter and Instagram: @JamesGavsie
Follow Ray Stakenas on Twitter @AlmightyRay
Follow Phillip Wilburn on Twitter @phillipwilburn
James' Book: *Renegade's Guide to Stopping Bullies: http://amzn.to/2DeS7jo
#WhoWouldWin Theme made by Mikey Flash, @MikeSchmidt09
Twitter- @musicspeedforce
Facebook- SpeedforceMusic
Instagram- @speedforcemusic
Email: musicspeedforce@gmail.com
Music by Twisterium / freebackgroundtracks.net
Music by Twisterium / freebackgroundtracks.net
**Links mentioned in this episode:**
* https://whowouldwinshow.com
                                                                     Also Check Out!!!

#WhoWouldWin Theme Music made by Mikey Flash,
Twitter - @MikeSchmidt09
Facebook- SpeedforceMusic 
Instagram- @speedforcemusic